About Mary Morganelli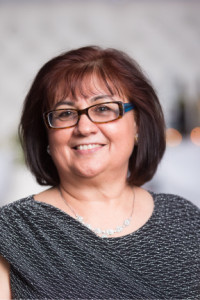 Mary began her journey as a Canadian artist when she landed in Toronto from her hometown in Ceprano, Italy at age six. As a child immigrant in a strange place far different from the small village she left behind she struggled to feel at home with the culture and language in an unknown country. It was particularly challenging for her at school with no means to communicate with her teacher and other students, but with the indomitable spirit and relentless capacity to look beyond obstacles and see the bright side that defined her character and mirrored in her art, Mary quickly mastered the English language with the help of her dedicated teacher.  Mary's love and passion for drawing and painting surfaced at an early age when she attended a grade nine art class. She later continued to nurture/develop her artistic expression by taking lessons from a correspondence art course. Soon afterward, she married her high school sweetheart and hung her artist cap for a while to devote her time and creative energy to her young family.
In November, 2010 Mary's career as an artist returned to center stage and began to flourish. Her first step was refreshing her talent by attending a grade 11/12 art course at Dr. Betty Stephenson Learning which she completed with honours. She further committed to expanding her portfolio as she immersed herself in private lessons from an artist/ teacher. During this time she produced many paintings experimenting with different mediums. Mary currently has an art collection in a variety of subjects and mediums which she shares with the world in Mariellart Gallery. Her paintings include portraits, landscapes, flowers, animals, birds, still life, children and more. All are very detailed whether it is painted in acrylic, oil, watercolour, charcoal, pastel or ink. Her career took off quickly earning many compliments from a well-known artist and other artists, which Mary has come across in her life, while also capturing the hearts and imagination of those who have bought her paintings and commissioned her work.
Often the work of Mary's hands come from the outpouring of her heart onto canvas. The storms of life have at times drenched her with cold chill of losses and devastating challenges including losing her child to a dreadful disease when he was barely 3 years old. Her determination to make something beautiful from the ashes is reflected in her art. Recently, Mary has been featured in newspapers and magazine articles on her Alzheimer painting "Forget Not" created from the sorrow of watching her father suffer from the disease. The Alzheimer Society has also used this
inspirational piece to bring awareness to this dreadful disease.
Many of Mary's paintings tell you a story offering glimpses of peace, serenity, relaxation, inspirational, meaning, and emotional while some were just done for fun. In her everyday life and travels, Mary takes many photos and lets her imagination go in her artwork. In a short time, she has again found passion in painting. It is a peaceful way of relaxation in her. Her desire is for her art to touch lives, bring a smile to your face and beauty to your eyes. She aims to share the gift she was given to become a gift for others.
Mary won her first award at the 57th Aurora Art Show & Sale, first prize in the Acrylic category. The award was presented by the Mayor of Aurora on May 3, 2019.  This is her first but certainly not the last for her art has bloomed dramatically.